Sportsnet.ca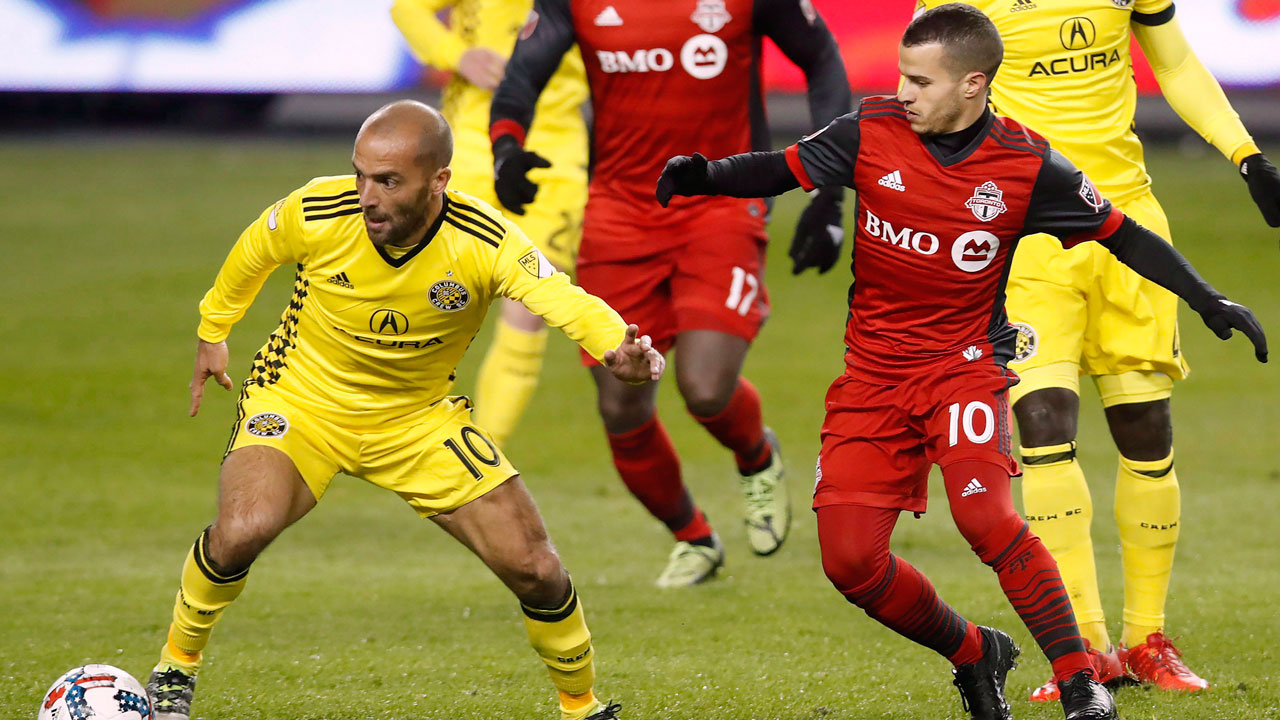 TFC notebook: Reds look to rebound from collapse in Columbus
Toronto FC was back in training on Tuesday ahead of its road game against the Philadelphia Union later this week.
Here are some news and notes from the day's practice.
THE COLLSAPSE IN COLUMBUS
TFC stormed out to a 3-0 lead against the Columbus Crew on Saturday in Ohio, but then conceded a trio of goals in the final 23 minutes and had to settle for a draw.
"It's obviously disappointing for it to go down the way it did, and that's an emotional blow that we just need to move on from and learn from," coach Greg Vanney told reporters after Tuesday's practice.
How did Toronto let a sure victory slip through its fingers?
"For good stretches, we were doing fine for a road game and [against a] Columbus team that is good in possession. We were minimizing a lot of their chances, and then the final 25 minutes or so, they became a team of throwing everything at you – desperation, if you will, with nothing to lose," Vanney said.
"We needed to adjust our mindset a little bit. We were still playing as if we had a lot of time [on the ball] around the field and that we were going to set up all of these attacks. We just needed to shift the momentum of the game and be a little bit [more savvy] about how we did that."
GETTING TO THE WORLD CUP BREAK
After Friday's road contest in Philadelphia, TFC will host D.C. United at BMO Field on June 13. MLS will then go on short hiatus as the World Cup in Russia kicks off, and the Reds will return to action with a match against New York City FC at Yankee Stadium on June 24.
Vanney set a target of five points over the last three games before the World Cup break. The draw against Columbus means they can still reach it, and even surpass it, depending on how the next two games play out.
More than anything else, though, Vanney just wants to get to the break in order to give his ailing team some time off. Vanney feels his players badly need some down time in order to rest and recuperate from a gruelling schedule that has seen TFC balance MLS and CONCACAF Champions League commitments over the past four months.
"We want to finish [this stretch] strong and then regroup and set our targets as we move into the summer grind and the later part of the season," Vanney stated.
INJURY UPDATES
Slowly but surely, TFC is getting healthier.
The club has been decimated by injuries this season, as a number of key starters have missed significant time. Players such as midfielders Nico Hasler and Marky Delgado, and defender Nick Hagglund have been used sparingly (or not at all) in recent weeks after sitting out due to injuries. But Vanney said all are fit again and ready to be fully integrated back into the team.
"We're optimistic that this will be a fairly significant week of returns, between guys who are able to increase their [workloads], minutes and involvement. Guys like Nick, Nico, and Marky – hopefully those guys are now free to play as much we'd like them to play," Vanney said.
Ailing left fullback Justin Morrow, who has only played in one MLS game this season due to a calf issue, is expected to be back in full training this week and could see action against Philadelphia. Defender Eriq Zavaleta (quad) and midfielder Ager Aketxe have also missed multiple games over the last month or so, but both will return to full training this week and could play on Friday.
Defenders Chris Mavinga (hamstring) and Canadian Ashtone Morgan (hamstring) did not train with the team on Tuesday. While Morgan is close to returning to training, Mavinga's timeline for coming back is not known at the moment – the French defender had a scan, and the team is just waiting for the results to find out how badly he is hurt.
Canadian midfielder Jonathan Osorio was subbed out midway through the first half of the Columbus game after a knee-on-knee collision. He suffered a contusion, but he trained on Tuesday and will be available to play on Friday.
Forward Jozy Altidore (foot) and defender Drew Moor (quad tear) remain out with long-term injuries. Vanney said both players are making solid progress.
RABASCA TAKES OVER TFC 2 FARM CLUB
Toronto FC announced on Monday that Michael Rabasca, the club's director of high performance, has been named coach of the TFC 2 farm club. Chris Pozniak and Phil Boerger will remain on the coaching staff for TFC 2, who competes in the second-tier United Soccer League.
Rabasca has been with the organization since 2014, and he takes over from Laurent Guyot. The Frenchman, who also served as director of the youth academy, parted ways with Toronto FC last week in order to pursue coaching opportunities in Europe.
TFC 2 sports a 0-2-10 record, and currently sits in last place in the USL's 16-team Eastern Conference.
"They're a young group. With any young group, one of the youngest when it comes to playing — I think the effective age of the group is second [in the USL]. With that there are going to be mistakes, and I think where we want to get the guys is to feel confident but then make mistakes that are aggressive, and brave," Rabasca said of TFC 2's disastrous start to the season.
"That's what we'll aim to do: to let them get after it a little bit, to not play afraid. I don't know that that's how they've been playing, but it's something we're going to encourage — to really go after it and not sit back."
LOOKING AHEAD TO PHILADELPHIA
Toronto and Philadelphia have already met this year, with the Reds earning a 3-0 win at BMO Field on May 4. Friday's match will be the final meeting of the campaign between the two sides.
Philadelphia sits in seventh place in the Eastern Conference with a 5-6-3 record – three spots and seven points ahead of Toronto.
The Union are coming off a 3-1 road loss to Atlanta United, after going unbeaten in their previous four matches, with three wins. Union midfielders Alejandro Bedoya and Haris Medunjanin were red carded in the loss to Atlanta for arguing a penalty call, which means they'll be suspended for Friday's game versus Toronto. Their absences won't change the way the Union plays, according to Vanney.
"Philly is the same team, and they have been for a while. … What they try to do is be very consistent. They have an identity that they are very steadfast in sticking to," Vanney said.